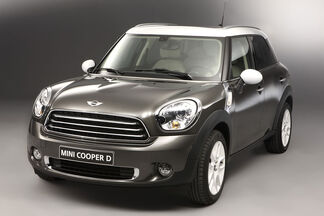 The MINI Countryman first went on sale in late 2010, for the 2011 MINI model year
Previewed by the MINI Crossover Concept car at the Paris Motor show in 2008, the Countryman is the first MINI with four forward-hinged doors and a lift-up tailgate, and the first with five seats (although a four-seater is an option outside the US). This contrasts with the assymetric door arrangements on the Crossman concept.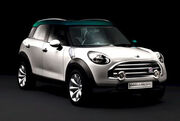 Before launch, the final form of the Countryman was previewed in the MINI Beachcomber concept at the Detroit motor show in January 2010. This closely resembled the Countryman, but evoked the spirit of the classic Mini Moke in having no doors and therefore being open to the elements.
The Countryman was designed as a response to MINI's own research which showed that as younger customers required a bigger car, they were buying cars from other brands. The idea was that with a full four or five seater, customers with growing families could stay within the MINI family.
Based on a highly modified R55 MINI Clubman platform, the Countryman shares only the door mirrors and door handles with the smaller R56-based MINI models. Inside, it features an entirely new dashboard, interior and seats, though the switchgear is shared with its smaller siblings. Unlike its smaller brothers, it is built at the Magana Steyr plant in Graz, Austria rather than Plant Oxford in the UK. It is not however the first Mini-branded car to be built outside the UK - the classic Mini was also built outside the UK, for example in Spain, Italy and Venezuela.
The Countryman was launched with the same engine options as the other members of the MINI family, but with the option of four-wheel drive, badged as "All4". The model breakdown is as follows:
MINI One Countryman - 1.6 litre petrol, 98 bhp
MINI One D Countryman - 1.6 litre diesel, 90bhp
MINI Cooper Countryman - 1.6 litre petrol, 121 bhp
MINI Cooper D Countryman - 1.6 litre diesel, 112 bhp
MINI Cooper S Countryman - 1.6 litre petrol 184 bhp
MINI Cooper SD Countyrman - 2.0 litre petrol, 143 bhp
"All 4" is available as an option on the MINI Cooper D, MINI Cooper S and MINI Cooper SD models. The MINI One, One D, Cooper D and Cooper SD are not available in the USA. MINI Cooper Ds specified with automatic transmission are equipped with a detuned version of the MINI Cooper SD Countryman's 2.0 litre petrol engine.