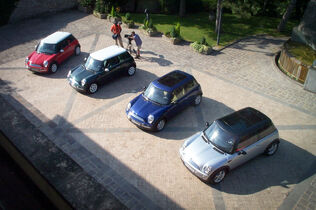 The MINI Hatcback 2001-2006 (aka First Generation MINI) was introduced to market in July 2001 and remained in production at BMW Group Plant Oxford until the introduction of the second generation MINI in 2006.
During its production run, the MINI hatchback was available with a number of powerplants and transmissions. These included 1.4 litre diesel and petrol engines, a 1.6 litre petrol unit, and a modified version of the 1.6 litre petrol motor with the addition of supercharger supplied for the MINI Cooper S models.
MINI Hatch 2001-2006

Final Assembly

BMW Group Plant Oxford, Cowley, England

Motorshow debut

[placeholder]

Series Production Commenced

2001

Series Production Ended

2006

Total Production

[placeholder]

Variants

MINI One, MINI One D, MINI Cooper, MINI Cooper S

Total Sales

[placeholder]
The engine units were produced by Tritec in Brazil, and gearboxes were supplied by Getrag, Midland, and ZF, dependent on the model type and year of production.