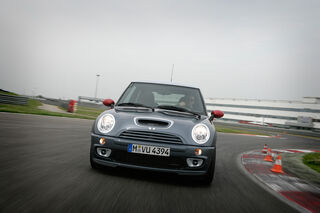 Welcome to The MINI Wiki
[
]
The MINI wiki. Sharing information and knowledge on the new MINI, 2001 - 2011
Anyone can contribute to this knowledge base, so please feel free to submit your edits or additions today!
New MINI Quick Introduction
[
]
The new MINI went on sale in 2001 in some major markets (including the UK and Germany) and in North America in 2002.
The car in more-or-less its finished production form was first previewed prior to the Frankfurt International Motorshow in 1997 (latterly revealed to be a fibreglass shell over Fiat running gear). The new car was also previewed to attendees of the Mini @ 40 event held at Silverston in 1999 and in 2000 at the Paris Motorshow.
Initially projected yearly sales were reported to be as much as 100,000 units per year, however production has since exceeded 230,000 units during 2010, including in excess of 20,000 MINI Countryman vehicles produced in Graz, Austria.
What's Here?
[
]
So far, MINI information can be found under the following categories:

The MINI Wiki is still very new (certainly in terms of Wikis) and it is constantly evolving and developing.
Every effort is being made to categorize the pages here at the MINI Wiki in a sensible, easy to use way. Navigation is something we're looking in to, as there's going to be a wealth of information to find your way around!